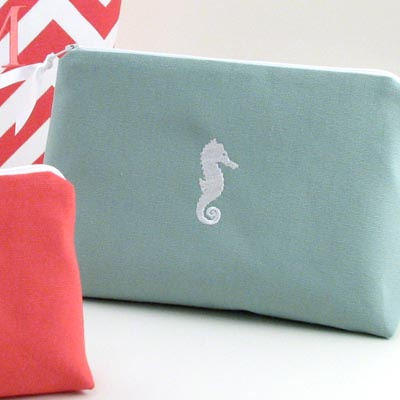 Head to the shore with your cosmetics neatly tucked inside our coastal cosmetic bag. This large size bag is embroidered with the coastal creature of you choice. Select from popular sea-life designs like a seahorse, crab, sandollar, and more. These handcrafted bags are lined in a special water repellent fabric making clean up a snap. A zippered closure with a satin ribbon pull will keep your treasures safe and sound.

All our products are made in the USA assuring you of superb quality and construction.
View Bag Colors
View Thread Colors
Facts and Features:
measures 9"w x 3"d x 6"h
perfect for cosmetics
our most popular size
heavy cotton duck
select any coastal icon
water-proof lining
ribbon pull zippered closure
dry clean only
made in the U.S.A.