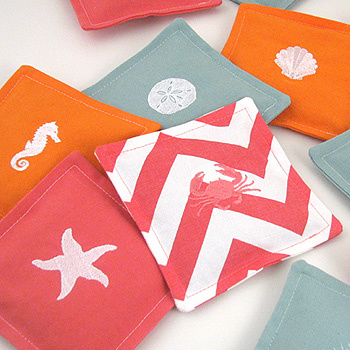 French lavender filled, our coastal drawer sachets will help keep your wearables lightly scented with the fragrance of Provence. Embroidered with a sea life icon of a sandollar, seahorse, coral branch, or starfish, these sachets measure 5 inches square. Beautiful as well as useful, lavender will help keep moths away from those yummy sweaters you adore. Put one in your car to refresh interior air. Individually packaged in a cello bag

All our products are made in the USA assuring you of superb quality and construction.
View Sachet Colors
View Thread Colors
Facts and Features:
measures 5"w x 5"h
French lavender filled
soothing scent
cotton duck outside
select any coastal icon
lavender repels moths
lavender lasts for years
made in the U.S.A.